Quote:
Originally Posted by
performanceknls
I you plan on showing UKC you are better off cropping the ears. It is harder to CH a natural eared dog in UKC, and that is a fact.
I don't buy into this it's bad for the image of the breed theory. Having an APBT cropped or uncropped is going to get the same bias reaction out of the public. When my dogs do dog sports with cropped ears does that make them bad for the breed? I think not. If you like goofy ears that is just fine but a breeding and show kennel like us like to preserve the APBT's fine, crisp, alert look. It is all up to you if you want to crop your dogs ears, the hardest part is find a good vet to do a good crop. Most vets will have a book of pictures of all the dogs they have cropped. Make sure to look at the pictures and choose a vet wisely. If they do not have pictures of there work I would go somewhere else. JMO
yep yep.
If you can't find a proper vet I would rather have a messed up pair of natural ears than a messed up pair of cropped ears. Once they are cut thats it no going back.
Here are 2 of my dogs with a 2in crop.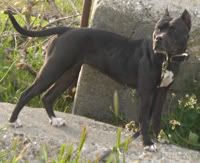 This boy has less bell, but in the 2nd pic he is just holding his ears back
Ace here also has a very nice 2in crop