There are many different floorings you could use some I would recommend putting a roof on the kennel space because of the color of the flooring you have a large area so it wouldn't be practical to cover it with a roof. Although a small area of it covered wouldn't be a bad idea for extra shade areas.
Concrete - Most commonly seen its seems makes for easy clean up and makes the environment more sanitary but, others would argue that concrete causes joint and pad issues sometimes. Also in the summer the concrete can get super hot and burn pads while in winter it can cause a dog laying on it to freeze. These are worse case scenarios though more seen with puppies than adults. Also many fail to smooth the surface over properly causing eventual pad damage from rough surface. Also has been said with show dogs that have weak foot arches can cause splayed feet.
River Rock or Gardening Rock - Recommend this type of gravel over any other because it has a smooth surface and easy on paws. It also has easy clean up but, I would worry about possible left over parasites or whatever considering you can spray it off but to properly clean it you would have to shovel it all out and clean it by hand in water buckets or something. Where a smooth surface is easier to sanitize.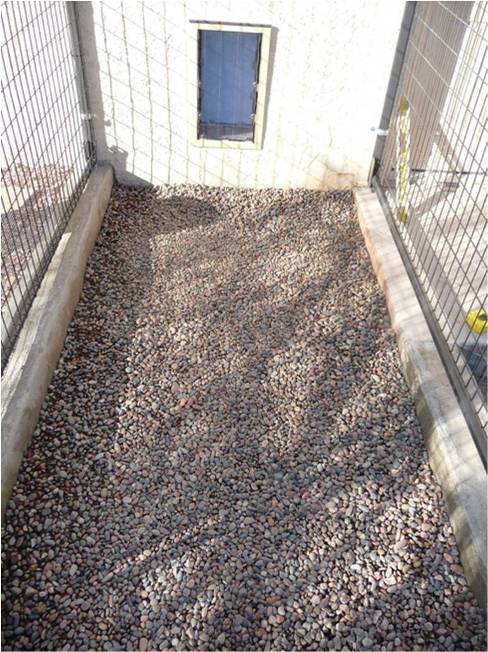 Wood flooring - usually better when used as a platform instead of on the ground but still another option. It is clean but tends to need to be replaced often because if not properly treated and cleaned it can soak up bacteria.
Kennel store floring - There are different kennels stores on the internet a couple more popular would be Options Plus Kennels and K9 Kennel Store. Both of these have flooring you can purchase. It is easy slide together pieces and are very sanitary and easy to clean. There are three different types made by these two providers. Options Plus has Modular Dog Kennel Flooring (Raised Platform)
K9 Kennel store has 2 different types
K9 Kennel Raised Flooring System(looks to possibly be just like Options Plus which you can find this type of floring everywhere)
K9 Kennels Tile Flooring System
Rubber flooring - basically the same kind of flooring they use in horse stalls is durable and extremely sanitary the only downfall is most of this is black and that causes the issue of getting way to hot int he summer. A substitute so you could get a less harsh color could be Children's Playground Rubber Tiles.
That's all I can think of I'll post more if I think of any.