Quote:
Originally Posted by
angelbaby
DNA test wont tell you what breed you have, it is not meant for that and usually people just get random results that can be nothing to the truth.
I don't see pitbull in there at all I see some small foo foo type dog, mutt . Did you see the mom? do you have pics of her? possible she was a mix as well . Really no way from us just looking at the dog to tell you what you have, you know you have a mutt so just enjoy him as the sweet dog he looks to be
welcome to the forum .
these pictures don't really show his body very well haha well there is definitely some pit, but I don't think he takes much after his momma other than the cute brindle patterns & the chunky/stocky little build he's starting to get now.. he's grown sooo much this week!! I think it's weird you don't see any pit in him at all, because everyone else calls it out or thinks he's mixed with boxer! but I agree on the foo foo part because of his wittle face... that wittle face... but he doesn't have dainty little paws man, he's gonna get to be about 50 pounds I'd say... if that whole 4 months double the weight thing holds true, that will be accurate. but he has this little face w/ shaggy beard coming in now..
I'm going to post a few pics of him around 8 weeks just to show how much he's grown & show off his "pit" physique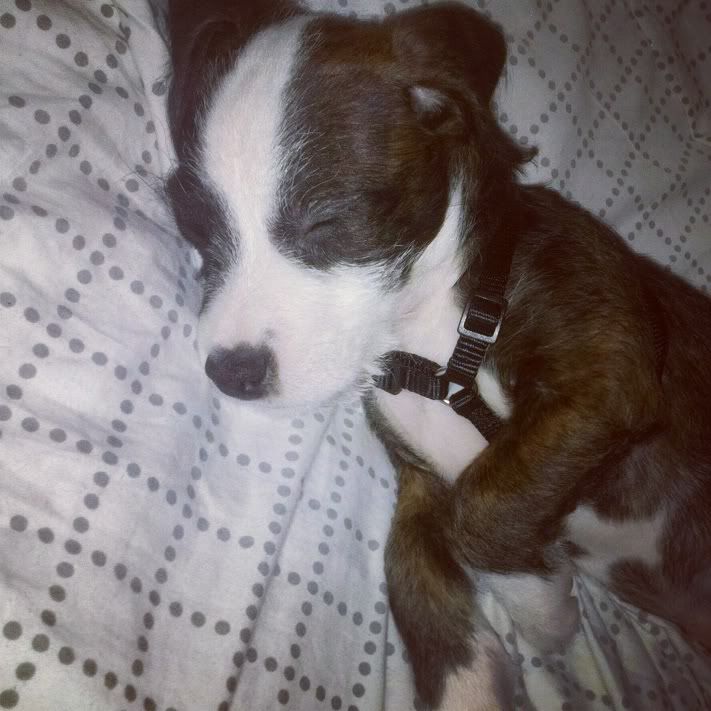 Quote:
Originally Posted by
::::COACH::::
I have seen a pit bull bichon mix and the pups looked a lot like this! But what angel said is true, you will never really know. He is super cute though!!!
ooo I am going to look this up now.. but I have been told EVERY different dog people see in him when I take him to the dog park I hear a lot of jack russell terrier and even once irish wolf hound when he was a baby baby. I duno!
Here is a picture of him outside this morning:
I figured it showed his actual body size best...
I won't throw away money at a DNA test if they don't work... I guess I am lucky enough to have known his mother was a full blooded pit and to know as much about her as I did.. but oh well. the part he seems to take MOST after is a mystery. but I love my little mutt dog!!! he's the most spoiled little wee beastie... shwoo..