There seems to be much misunderstanding regarding the usage of a chain set-up as a means of confinement. Hopefully this post will clear up any possible concerns or questions.
A proper chain and axle set-up is a safe and effective way to house most dogs, but paticulary bulldogs; one of the many Houdini's of the dog world. A good set-up is out of the way of any debris (Including brush, weeds, trees, etc.) that the dog could get tangled up in. There is little, if any, risk involved with a proper chain set-up. But as with any means of confinement, it has both pro's and con's.
Pro's
* Almost entirely escape proof.
* Easy on the wallet.
* Provides more square footage than the average kennel run.
* A good housing option for those with multiple dogs.
Con's
* Risk of theft. Best to keep that chain set-up behind a privacy fence.
* Loose dogs and/or other animals wandering into the yard can be a concern.
* Possibility of strangulation if the dog becomes entangled (Very low risk)
* Oversized chains can injur or debilitate a dog.
What is a "proper" chain set-up?
A proper chain set-up is a safe one. The area will be clean and free of objects that don't belong there. The hardware (Including any extra pieces you might use) is well-maintained and checked daily. Adequate water and shelter will be provided if the dog will be spending any length of time on the chain.
Hardware is a very important part of a proper chain set-up. Only the best of the best should be used. Cut corners here and you may end up with a dead dog. For solid and durable hardware,
http://www.stillwaterkennelsupply.com/hardware.htm
1/4" thick chain is standard, and can accomodate even the strongest dogs. Many people have the misconception that a larger chain is somehow more secure and this is simply not true. The "grade" of the chain is more important than the size. For more information on grading chain please visit:
http://www.1st-chainsupply.com/aboutgrading.htm
.
As stated earlier, too-large of a chain can injur and debilitate your dog. The cervical vertebrae of the neck are not designed to hold excess weight; overtime a heavy object hanging from the dogs neck can cause pain and injury.
What is wrong with this picture?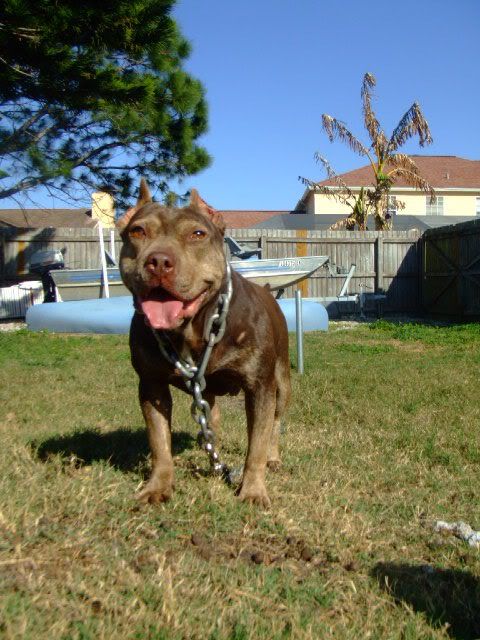 Note the lack of a collar combined with the use of an oversized chain. This can cause both structural injury, as well as rubbing the neck raw over time. There is not noted water source, nor a proper shelter. Situations like these ruin it for folks who utilize chain set-ups responsibly.
*Note, no dogs were harmed. It was just a staged photo.
TO BE CONTINUED...