This is my first time posting a video and using VideoBam so I hope it embeds properly and displays correctly! All the video's are fairly short (under 1min).
Edit: Updated vids to Photobucket.....VideoBam blows.
First video is her at 3ish months. The rest are at 12 months and then 13 months (playing fetch)
upruns::doggy:
The video's were taken in 1080p so if you have the option, watch them in that! Although I am unsure if when I uploaded them to photobucket they changed the rez.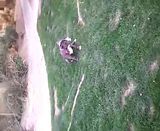 My favorite....Luna and her boyfriend Knox romping as they do. At the very end Luna gets body slammed