My daughter was out yesterday with our dog Angus...She went to the weight pull field to work on obedience with her dog....about a half a block from our house....Three Hispanic males about 15 to 18 with two pit bulls tried to forcibly gain entrance into the weightpull field through a locked gate to turn their dogs loose on Angus. Katy started calling home to no avail, no one picked up the phone....Then one climbed the 10 ft. chainlink fence to go into the field to threaten her, telling her if they found her out again they would see if her dog was tough....She was terrified! I walked around and found her and two other little girl in the fenced area crying and terrified. The police has been called and are aware of the situation in our area. They have stepped up surveillance in the area, and I have talked to Katy about dialing 911. Thankfully Angus defended her enough that the teen stayed at a distance. No her days of training all alone are over! Police did say this was becoming a trend here in Austin....
Thanks for listening a concerned mom!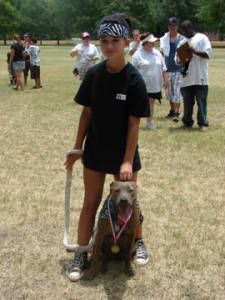 This Katy and her dog, Angus! He would defend her with his life!