Discussion Starter
·
#1
·
This isn't exactly pitbull related, but I am suuuuuper excited for this week! My bf and I are going to be getting a chocolate lab puppy from a breeder that I know very well, and I went to see them and the verrrry pregnant momma dog this weekend. (they have the father as well) She is due this week, and definitely looks like it! The vet said that she has
at least
9 puppies in there. My bf and I have pick of the litter for female.
I had a dog from their last breeding, and she was the most amazingly smart dog I have ever owned. Unfortunately, my ex bf took her away from me when I kicked him out...
The breeder is a good friend of mine, and really wanted me to have another one of their puppies, so they gave me pick of the litter for female. The parents of this litter are the same parents as the dog I had before, so I know these puppies are going to be just as awesome as my Cocoa was.
Just a little history on the breeder for those who are curious (because I
know
some of you are itching to know!)
... the breeder only has these two dogs that they breed, and this is only their second (and last) breeding. They hand-picked both of their dogs as puppies from reputable hunting dog breeders (ones that had bred long lines of chocolate labs) and raised them without the intention of breeding until they saw what amazing dogs they both were. Both parents are health tested and have hips, eyes, and elbows certified. Puppies come with all shots and deworming, dew claws removed, and are guaranteed for hips, eyes, and elbows, and the full purchase price will be refunded ($650) if puppies are tested and any faults are found. Of course, they won't take any test scores before 2 years of age. They come with AKC papers as well, with limited registration, and full registration will
only
be granted once the owner of a puppy shows the hip/elbow/eye scores to the breeder, that way no one can breed
and register
the pups until 1) they are health tested and 2) they are old enough to breed. Their dogs have excellent conformation and are amazingly smart, driven, attentive, and have excellent temperaments, and their offspring all posess the same qualities. My dog certainly did, and I know several others who have her brothers and sisters, and they are all the same way.
Had to share because I am extreeeeeemely excited, not only to have a puppy in the house, but to be able to get into duck hunting again.
Here's some pics of the parents and the puppies from the last litter, and some of my girl, Cocoa when she grew up... just for fun.
I'm sure I'll be posting more puppy pictures soon, if work allows, I will be there for the whelping! :woof:
The daddy, Sir Beauregard of the North, aka "Beau"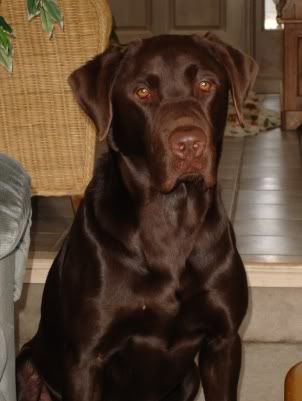 The mommy, Miss Northern Sky Dancer, aka "Sky"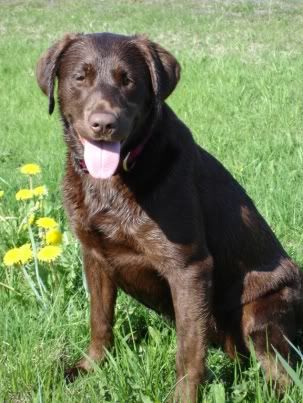 And some of the puppies from the last litter...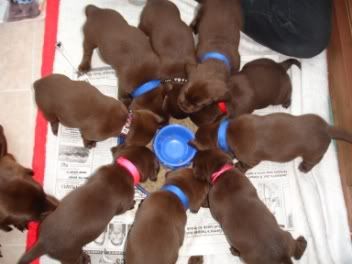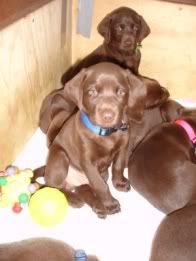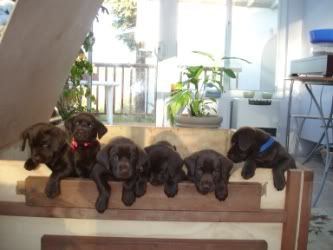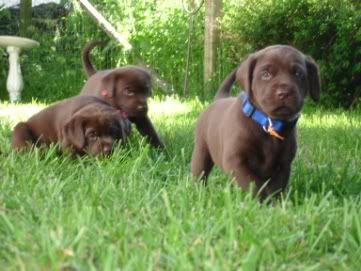 And my Cocoa, man I miss this dog!