Discussion Starter
·
#1
·
Hello,
My name is Celeste and I am 15 years old. I am interested in learning as much about American Pit Bull Terriers as I can. I've been looking through this forum for awhile and have noticed you have many people who are very educated in the breed.
I do not currently own an American Pit Bull Terrier, but I would love to in the future.
I am really loving dog sports, I have been competing/training for several sports with my German Shepherd/Labrador Retriever mix Dakota. Dakota and I have done dock jumping, obedience, agility, oval track racing, sprint racing, and weight pulling. We've looked into Schutzhund but haven't found any local groups we are comfortable with.
Dakota will be 2 years old in 3 months, he is my rock star right now. He's done awesome in everything I've tried with him. We started getting into sports later last summer, and it rains all winter here so we haven't gotten to far. So we hope to really get into it this summer! He had a small graduation dock jumping competition and we won first place.The butt was barely trying that day! Lol! His winning jump was 16.2, I ran up and down the dock with him trying to get him pumped. His earlier jumps were in the 11-10 range and the other club members were /facepalming him because they know he could do better. We also tried out agility, the trainer didn't believe us when we told her we'd never had classes before. No hesitation, except on the curved tunnel. But once we showed him that there actually is a turn there, he had no problems at all.
We got into weight pulling at the end of fall, so had almost no time to practice. We will be starting fresh this summer, one day of just wearing the harness, then a small chain for a few days. But with what little bit we did (got up to about 9lbs) he really enjoyed it.
Also, I've started a weight pulling club for our area. There used to be one here, but they weren't educated. They were baiting, and had dogs pulling in normal harnesses, and had dogs under 2 years old pulling quite a bit....Also the one dog that did have a proper harness on...it was upside down. So far the club only consists of me and 2 friends of mine. (One is a certified trainer.)
News - Nor Cal All Breed Weight Pulling Club
I have to mention the shelter I have been volunteering at for 1 1/2 years...The Haven Humane Society. Because of the people there and their influences on me, I have become a faaaar more educated, and responsible owner than I was before. I got volunteer of the year my first year of volunteering, just couldn't get enough.
Enough about me, here are my dogs.
Dakota - 21 month old German Shepherd/Labrador Retriever mix. He is the only one that is really MY dog. I pay for everything, food, vet check ups, shots, vaccinations, toys, equipment, club fees. I have money saved up for surprise vet visits.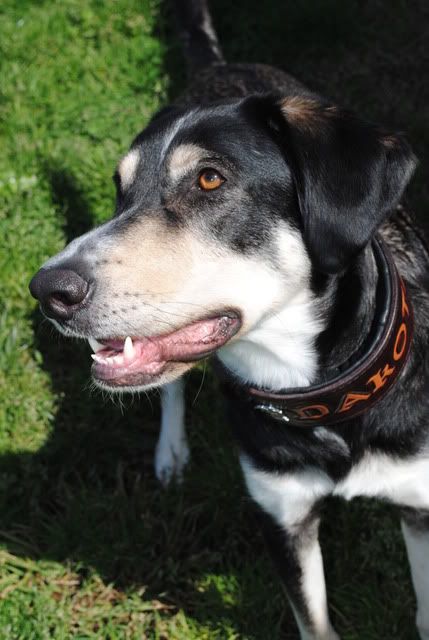 This is our goal for this summer again...God I hate that it rains all winter here.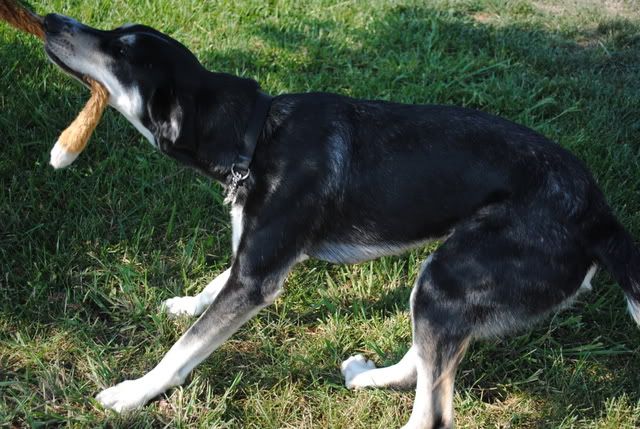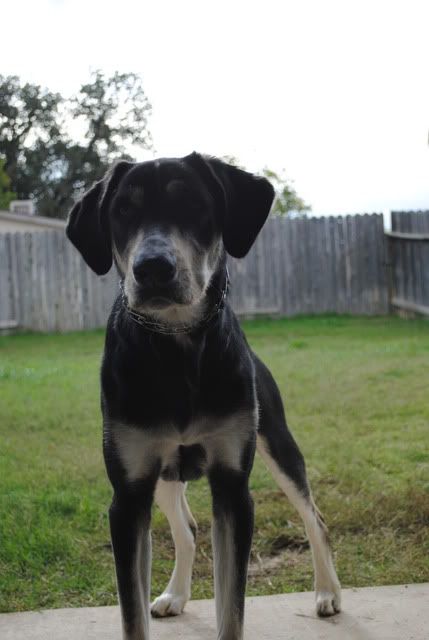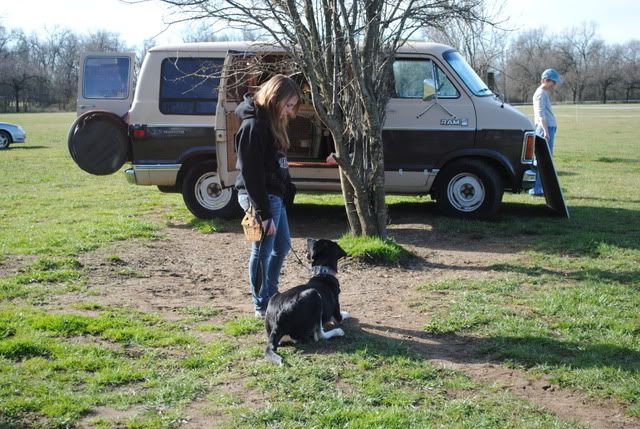 Oval track/Sprint Racing...On the side lines while other dogs ran.(He has a new 3 inch padded collar for this. See first picture.)
Personally, I think you shouldn't own a dog you can't control.:thumbsup:
Please excuse my hair and expression, I didn't get any sleep that night and we ran out of my shampoo for oily hair. Double bad morning.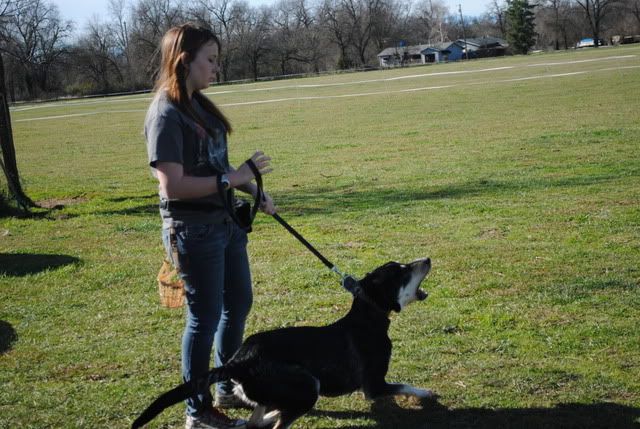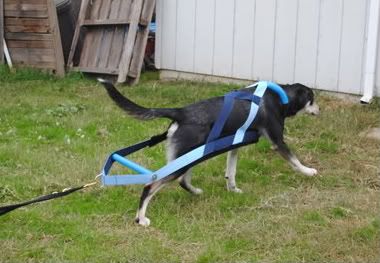 Tazzy - 6 year old Toy Poodle, my grandma got him from a backyard breeder when I was younger.Which I learned recently...I was told we adopted him, luckily now she knows the difference between adopting and buying. (She's against them now! It's so refreshing to have open minded people in your family, especially when the others aren't.)
The poor guy has horrible structure so I have to cut down on our exercise.
If you can't tell he has had her influence when it comes to manners.
He's a little spit fire.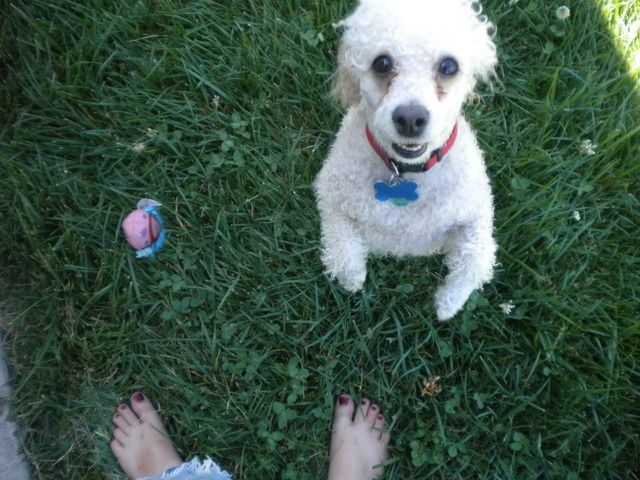 Buddy - 5 year old Miniature Long-haired Dachshund, same acquiring story as with Tazzy. He's waaay too brave for his body, tenacious little fella.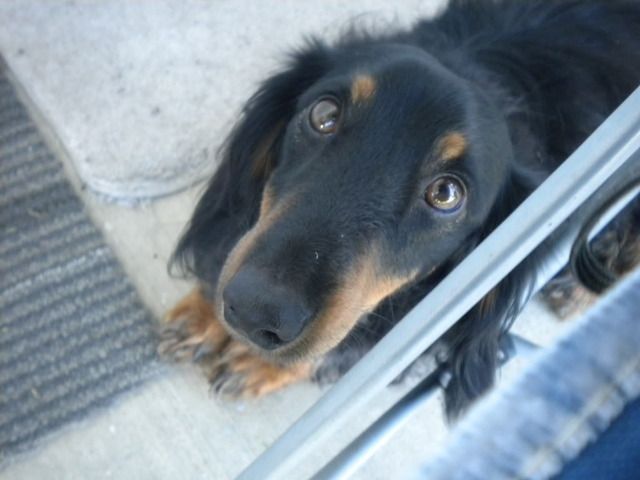 The only shot I managed to capture with all 3.