Hey everyone, just wanted to introduce us to your forum. Our family is now the proud owner of a new pitbull/mix puppy! Let me be the first to say I never thought I would own a pit, EVER because of personal reasons, but here I am now with a new little boy!
His name is Dice, he is now about 3 months old (or so that's what the vet told us), you see, he is a rescue from our local shelter and we adore him! His shelter paperwork said pitbull, and all of his siblings looked full pit, but our vet said probably a mix cuz his coat is a bit longer than a pure breed. Anyways, he's adorable and sweet and he's got a huge head and decent size paws...LOL. He's a little on the thin side and he's been on deworming meds for almost 2 weeks now so hopefully that will help. And he's so slow to be potty trained, don't remember any of my other dogs ever taking this long to learn not to go in the house but he's doing great in his crate at night so I'm hopeful he'll get there soon.
Anyways, I might have lots of questions down the line and hope to get to know more of you and your pets on this forum. Thanks for looking! Amber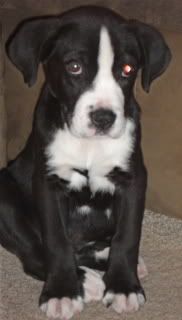 he looks so sad, our own personal Eeyore!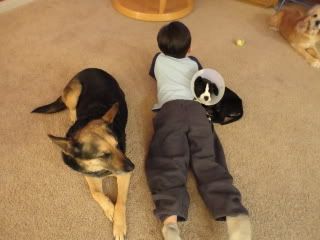 my son, Dice (after his surgery) and my other 2 dogs...so cute