Discussion Starter
·
#1
·
Gargamel cut his paw last week. I searched the threads and people say its will bleed a lot, and to soak it or wrap it up if its bad. I have been soaking his paw, and using anti bacterial wipe pads after we come back from walks. I have tried to not let him run around. I gathered I should just be worried if its infected? How can you tell? Is it like if I get a cut infected? Hurt, hot to touch, sore and puss filed?
Vet said i could come get Antibiotics, but this would be the 4th time he is on them in the past 3 months, I don't want to just have him go on them as preventative, only if there IS an infection. Figured I would see what people thought here before bringing him in to the vet since they say they can't do anything for it I am not already doing, except more medicine.
Mel has not changed anything he wants to do daily, he still wants to jump and play, isn't limping at all. He isn't licking it, he doesn't bother with it. This is day 6 pictures. Its still bleeds after we go for a walk, which is why I worry if it IS infected...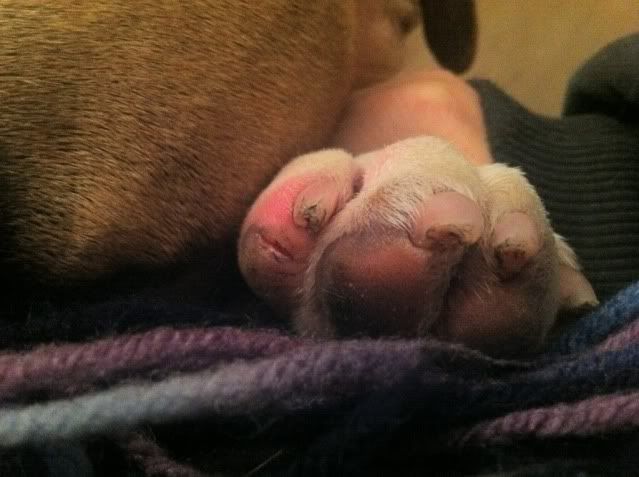 hiding his nose cause he is sick of me looking at his paw I am guessing , lol.
What do you think? Or do these type of cuts just take a long time to heal since its on his paw?