Discussion Starter
·
#1
·
I was going to just do one gigantic huge post, but apparently, I need to make shorter videos because the video I'm currently uploading to Youtube was only ~10 mins long and still has 591 mins to go, lol. omg, only 9 more hours! (Although it has gone down from 888 mins, lol.) I only have like 4 more videos to upload! :rofl: I'll probs still be uploading them after Jubi's gone to her new home with Aireal's friend. :hammer:
So, here's the pics I do have. I didn't take a lot because I was figuring you guys would like the videos more, but since those are obviously going to take forever to upload, I'll start taking more pics of the bunny-butt running around. It takes a while to get good shots of her ... out of any 10 pics I might take, only 3 are usually any good without her being just a blur of brown and black, lol.
Jubi in her xpen:
Playing bitey-face with Kane:
You can just make out Jubi's blurred face on the bottom left-hand side.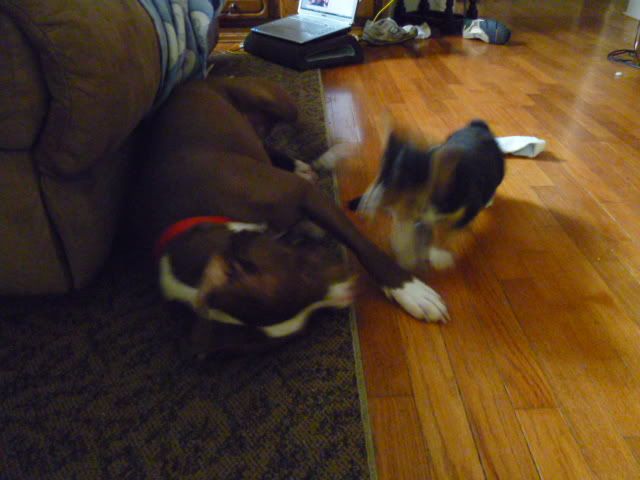 In order to get out the back door to the deck & yard, you have to go down 3 steps inside the house. These shots were all taken with me crouched on the landing after going down those three steps. She likes to BARKBARKBARK and RUNRUNRUN in CIRCLESCIRCLESCIRCLES whenever Kane is still outside nosing around in the snow, so, even though I really shouldn't, lol, I rile her up some more.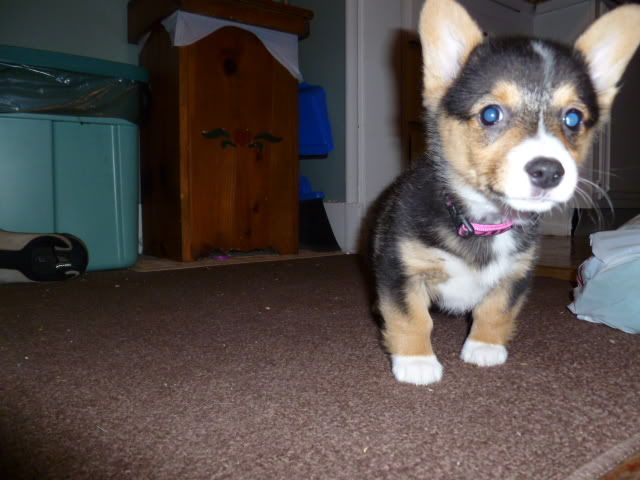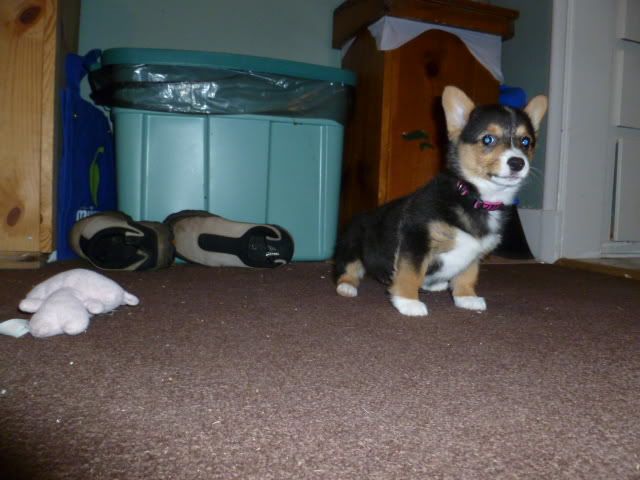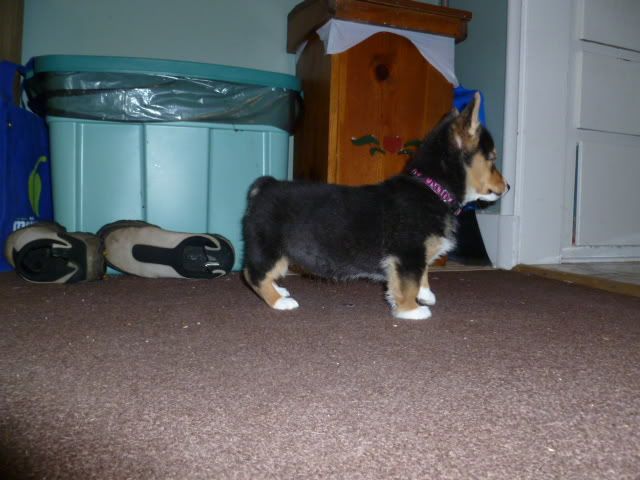 IN YER KICHENZ, KILLIN YER RACCOONS!!
Here's some shots of her running around in the snow -- now keep in mind that we have ~5 inches of snow ... which is just about as tall as her, lol. But she keeps on truckin' and doesn't let it stop her from (trying) to run around after Kane.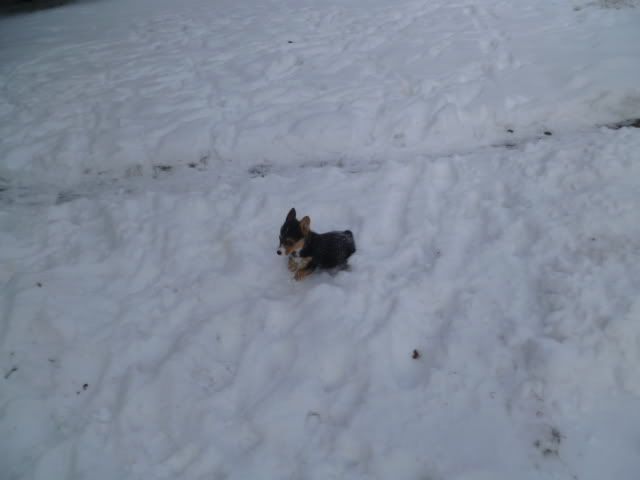 Lol, she wants to take Kane's second favorite outside toy -- his deflated basketball. Good luck carrying that away, Jubi!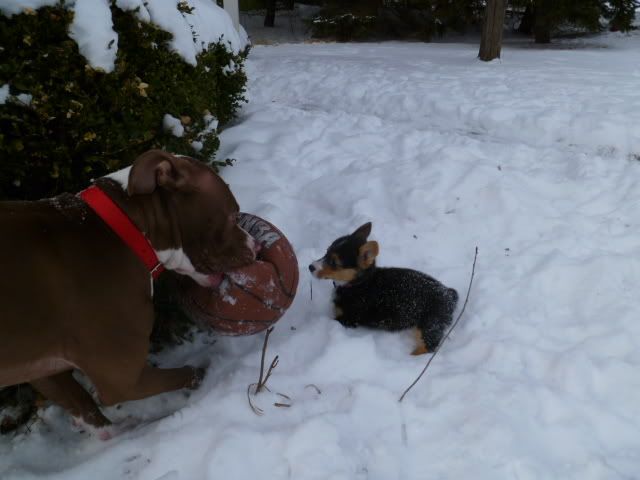 And then this is what happens when you leave the room to grab something: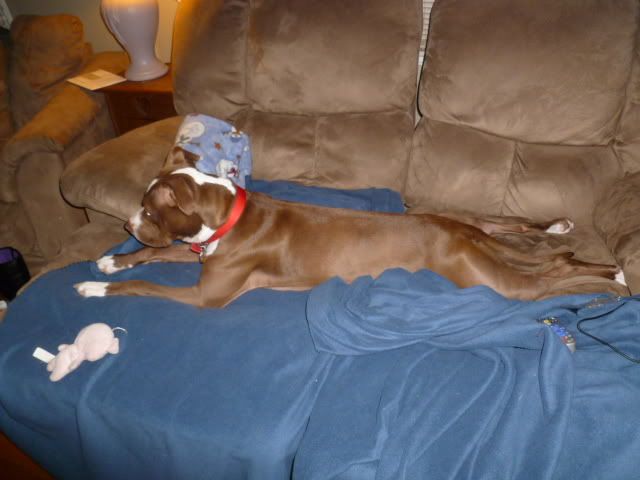 Thanks for leaving me a spot, Kane! Lol.
Kane practicing his Leave-It: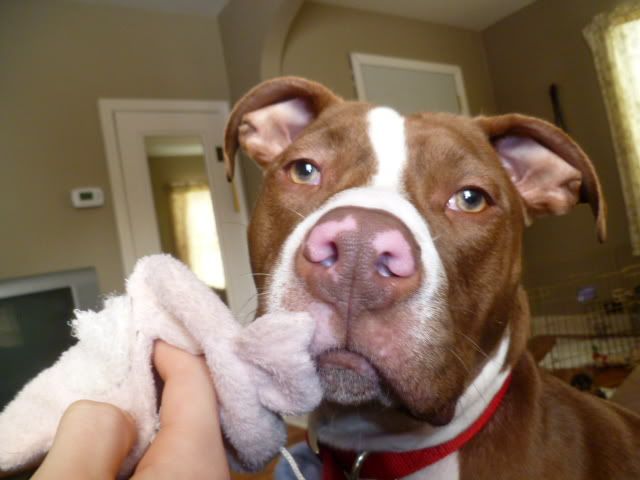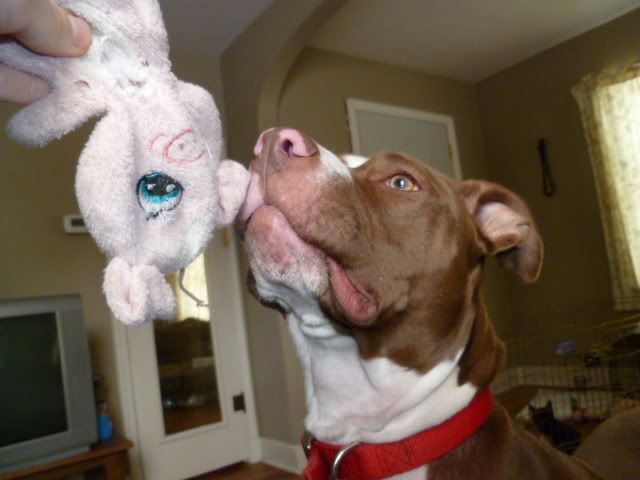 I cross my heart, hope to die, stick a needle in my eye, that there will be more Jubi pics tomorrow that I will take during playtime (now that I know these vids take forever to upload. *grumblegrumble*)