·
Gotta Love Them Red Dogs!
Ahoy There; Name Brittany. I am the ever so proud mom of a 1.5 year old Rednose APBT. He is 50% Camelot,25% Hemphill,and 25% Sarona. He is considered a "Old Family Red Nose" or OFRN. He weighs in at exactly 56lbs standing 20 inches to the shoulders and has a 19inch head. We are just now gonna be starting him on conditioning and I have high hopes for him. He is a high drive dog and has amazing stamina,he is everything I could wish for and more! He has absolutely no D.A. or people aggression in public but I must say when he is home he is a TOTALLY different dog once in our fence. He takes it as his duty to patrol our fence line and has worn a permanant trail about a foot and a half wide around the whole perimeter. I never taught him to do this buy learned to appreciate it one time when someone tried breaking into our fence to steal our dirtbikes. Needless to say we found the guy hiding in our shed.
Below are some pics of O'Malley and I would LOVE to get some honest opinions on him,his conformation,ect. I don't mind honesty so if you see something I can change,please point it out.
I look forward to getting to know y'all; Have a good day.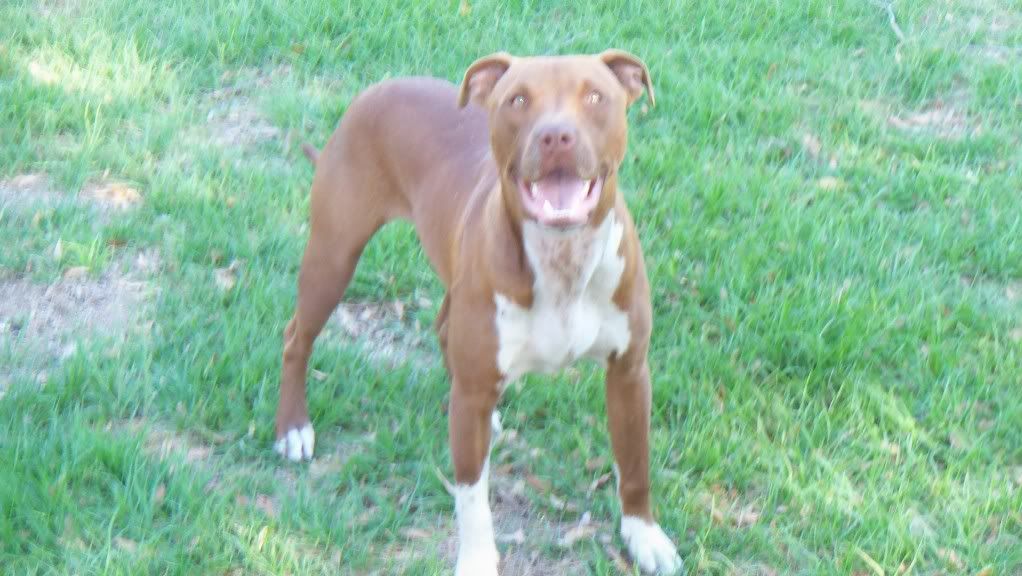 & a mug shot.