For those of you who feed Orijen (KM etc.) and are familiar with what the Red Regional kibble looks like, you can immediately recognize that this kibble (bag) I got looks different than their usual recipe. For one The kibble pieces are bigger and much lighter brown than usual. Every Regional Red bag I have gotten to date has been dark dark brown and smaller pieces??? I got a bag only 4-5 weeks ago and it was that normal dark color and smaller pieces. Hmmmm. Wonder if I got a bad bag or if they just switched over to a new size and color kibble with their recipe?
I know Orijen has made some changes as far as size/weight bags and switched the whole potatoes for green and red lentils etc but like I said, just weeks ago I got the Regional Red and this new bag of kibble looks NOTHING like the old recipe. Maybe I was still getting there old formula (potato) which was smaller and darker and now I they are just starting to cycle in their new formula (lentils) which is bigger and lighter in color?

From Orijen:
"All dry foods require some form of carbohydrate to hold the meat ingredients together. Biologically Appropriate ORIJEN features non-starchy locally grown vegetables that are extremely low on the glycemic index. Other important points to note include the following:

Lentils and chickpeas replace potatoes in all ORIJEN foods
Less than 1% of ORIJEN's total protein content comes from plant source
100% of essential amino acids are delivered through Whole Prey meats, which means ORIJEN is completely free of synthetic amino acid supplements
Foods where plants contribute substantially to the overall protein content are easily identified as they feature synthetic amino acids L-lysine and
DL-methionine in the ingredient list.

After reading this thread below...possibly it's the other way around than what I thought! Possibly I have been feeding the newer formula in the past (With lentils - physically smaller, darker kibble bits) and I just got an older formula bag? (With potatoes - physically larger, lighter colored kibble bits)
I'll check the bags ingredients when I get home. If this is the case, funny that their are still old formula bags floating around with the newer formula. I wonder if the potatoes will cause any issues as opposed to the lentils she's been on with them.
http://www.goldenretrieverforum.com...cipes/145978-ive-got-orijens-new-formula.html
Luna still gobbled it up
up: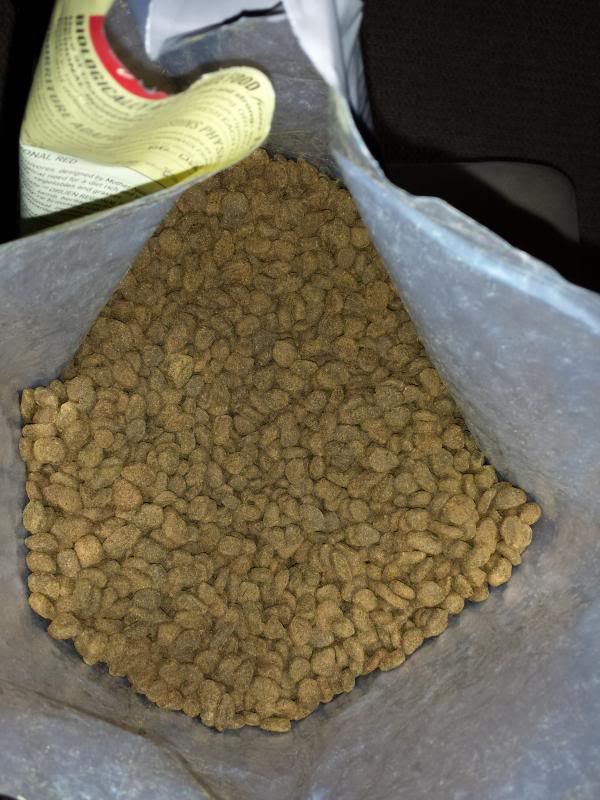 Couple links to other threads :
Orijen Regional Red...Weird color or just new to me? - German Shepherd Dog Forums
Orijen Regional Red: 2 Bags, 2 different foods - German Shepherd Dog Forums