Discussion Starter
·
#1
·
I own a highly prey driven APBT, so trying to bring him out on walks with me has always been a nightmare. I have only been taking him out after dusk, when all the squirrels have went home for the night and nobody is really around to distract him. Even that is hard because he still tries to hunt the squirrels..knowing they're out there.. SOMEWHERE.
I've tried chokers, but my crazy dog would strangle himself for a squirrel before letting up on the collar. So I've learned that is a VERY bad idea.
One day I was doing some lawn work in my front yard and he was whining in the back yard wanting to be where he could see me, so I chained him up to my porch. But when he saw his Great Dane friends a few minutes later come home to the neighbors house he went crazy wanting to go play and completely bent his chain collar to get loose and play. Both circles were welded together at one point. Not even my husband is able to bend this back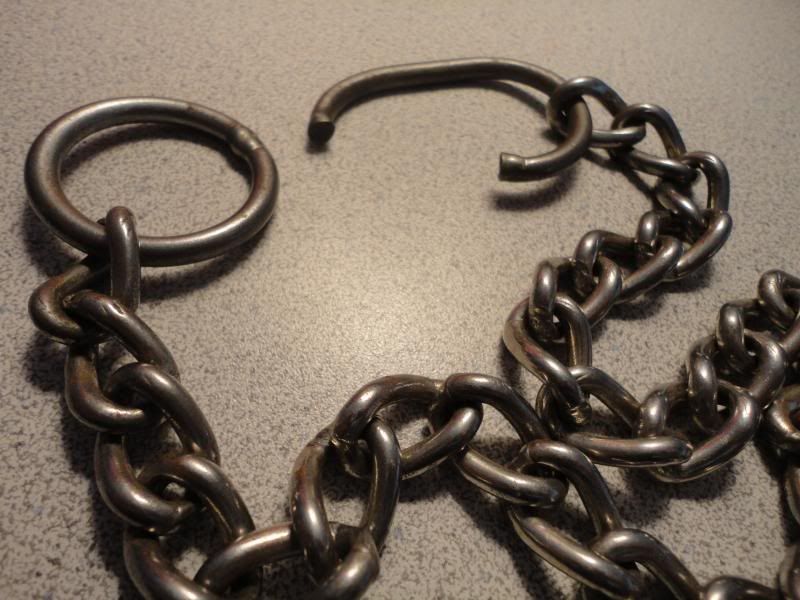 So that's just an example of his strength and how little he cares about whats around his neck. I swear his neck is made of steel..or at least, he thinks so.
I'd really LOVE to be able to walk Rocky with me and I'm considering hiring a trainer for help.
There is one last thing I'd like to try before I hire a trainer.. a prong collar.
I've always been afraid to try a prong because they look so intimidating and at first I thought he would puncture himself with them. I've read a bit about prongs on this site and many people have said the dog wont hurt himself so long as the collar is a proper fit.
Do you think a prong would work for Rocky knowing what you do about him? And his high prey drive.. If so, how can I size Rocky for a prong collar without bringing him into the pet store with me.