Edited to add the link to the blog post on River, which includes links to the facebook and chipin pages:
http://love-a-bull.org/2012/01/when-it-rains-it-pours-meet-river/
I know it's been a while since I've been able to update you guys on my personal dogs, but I wanted to come on and post about a dog I've spent almost every waking minute either caring for or worrying about for the past week and a half. River was pulled barely alive from the colorado river on Sunday, January 8th, and rushed to the city shelter. When he arrived technicians and veterinarians immediately went to work trying to revive him, and even through their efforts it took him a full hour to reach a body temperature that was high enough to read on the thermometer. When I went to visit him the next day, he was unable to lift his head for more than a few minutes, was suffering from severe ataxia in his hind limbs, and was painfully thin. All along his left side, he was covered in deep wounds and scabs, indicative of road rash.
This is River on day 1:
The next day, I visited him at the shelter again, as his stray hold was not up and they would not allow him to be released to rescue until the stray hold was over with. He was standing up when I greeted him, and wagged his tail when petted. His sweater had been removed, so I was able to get some better pictures of his overall body condition.
Day 2: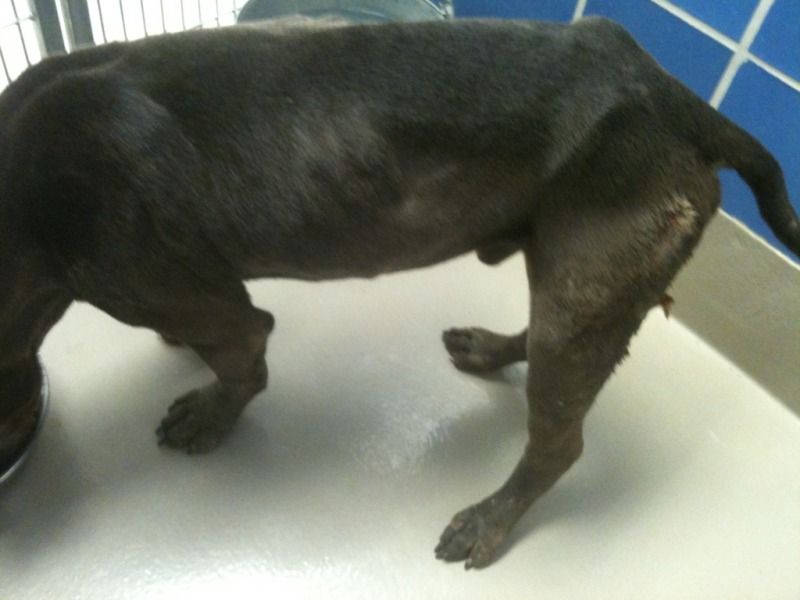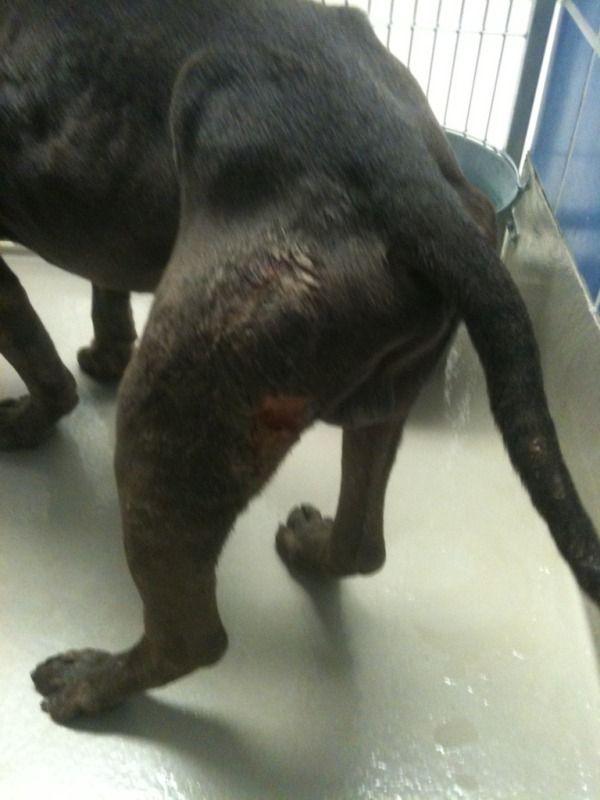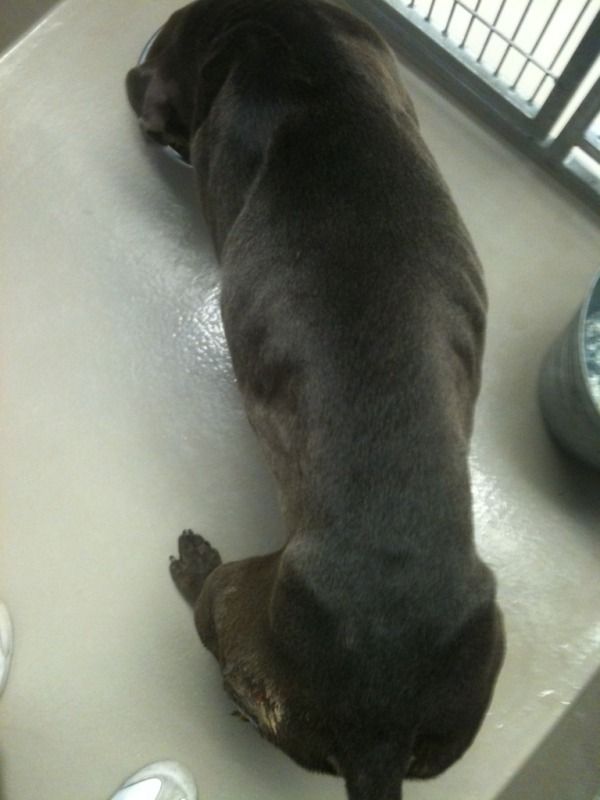 Day three passed uneventfully, and due to having to spend all day at work, I was not able to get out to visit him.
Day 4 finally came, and I was able to finally convince the shelter to let me do a dog test on River so that we could pull him and potentially find a foster for him (fosters are much easier to find for dogs that get along fairly well with other dogs.) He did very well on his dog test, other than the fact that he's a very rude intact male that likes to hump everything that moves
. He was still unsteady on his feet, and his wounds had not been touched, and desperately needed to be scrubbed and sanitized, but his improvement from day one was astonishing.
Day 4 pictures: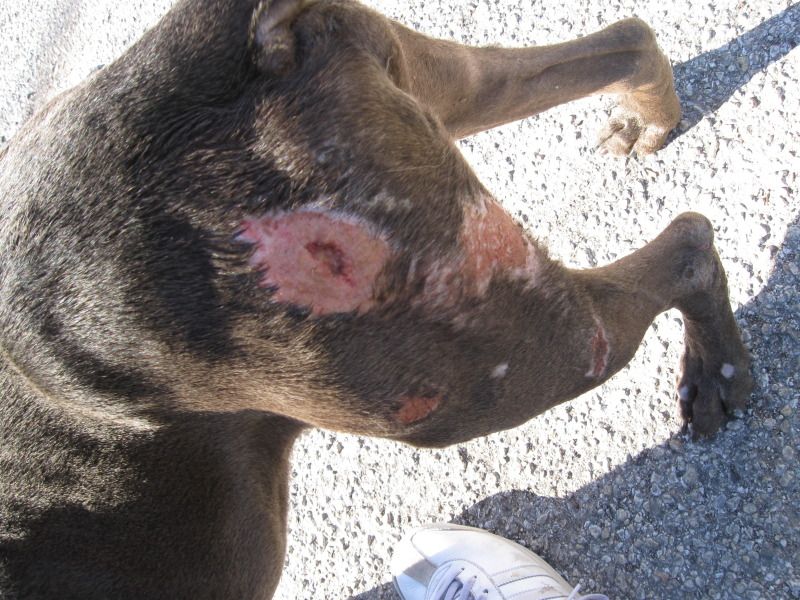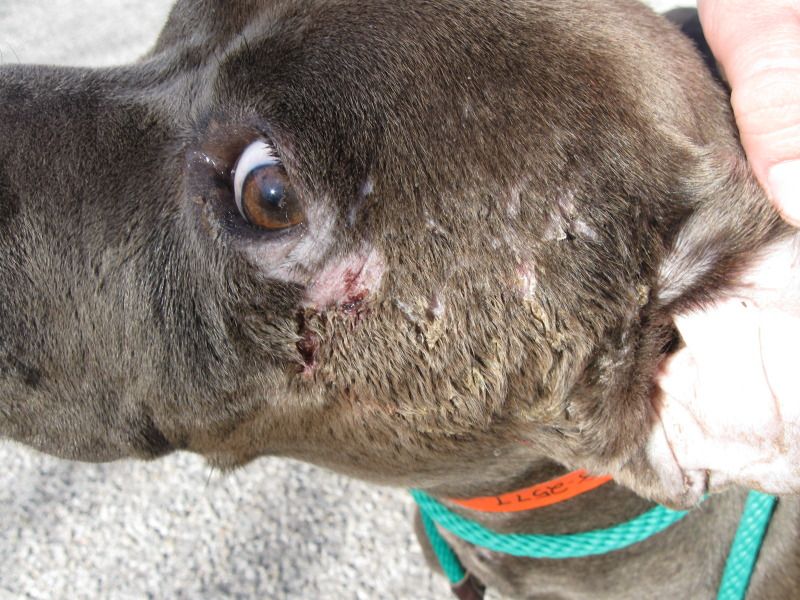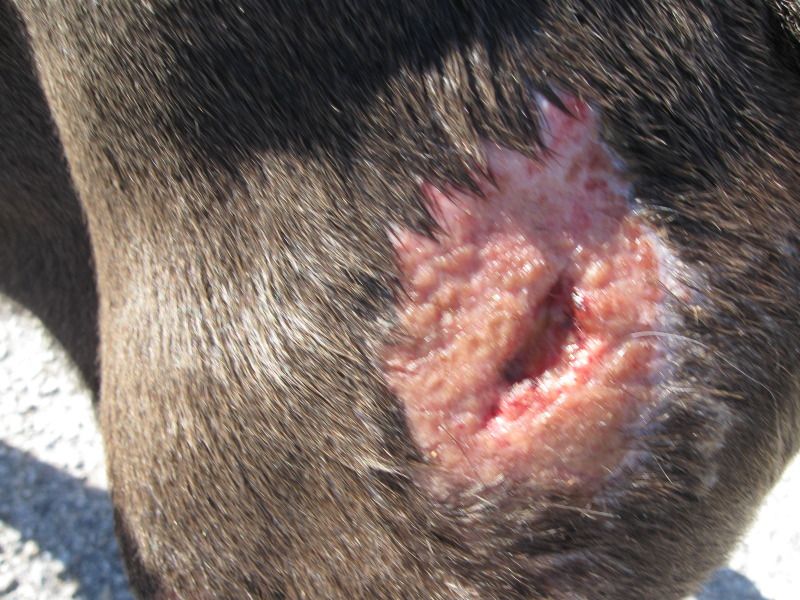 Day 5-
We sedate River to take some X-rays and finally get his wounds cleaned and scrubbed. His hip is very, very painful so we decided to take pictures of that in addition to taking pictures of his chest to see the severity of his heartworm disease. Turns out he has a fractured hip, and will possibly need surgery down the road to repair it. He also has BB pellets lodged deep in his shoulder, which is an old injury.
Day 5 pictures of his wounds after having all the pus and matted fur scrubbed away-
Days 6-8 were uneventful. We started River on hydrotherapy, and watched as his wounds healed extremely well, and even started growing some fur back.
Day 9- A.M.
River had a very good morning, he had several people (other than myself) come visit him, one of which was a photographer, and we got some great pictures of him being cute. He also got a bag full of goodies (new collar, t-shirts and a sweater) donated to him. We started sedating him with Acepromazine due to the fact that he was being far too rough on his injured hip, and we were worried he was going to make it worse. Here are some of the pictures taken from that photo session that really show his personality-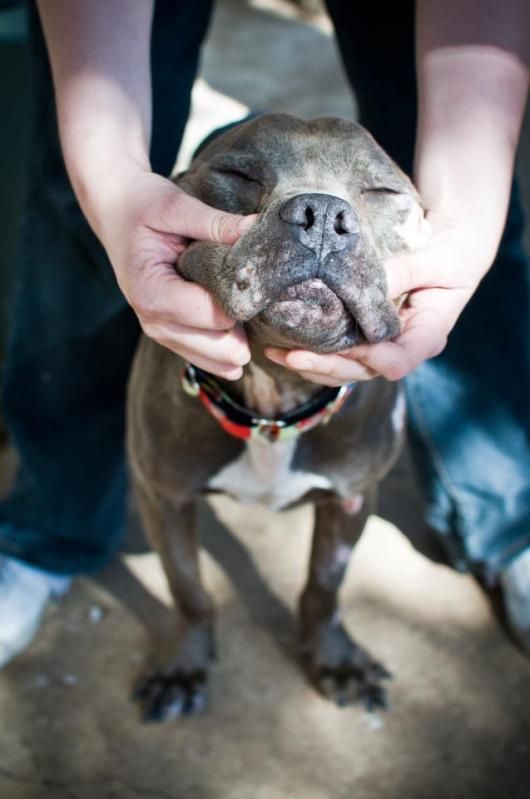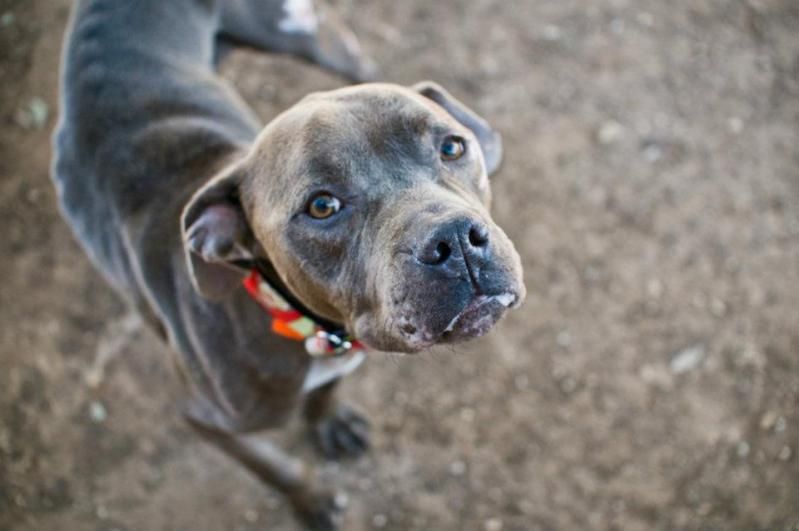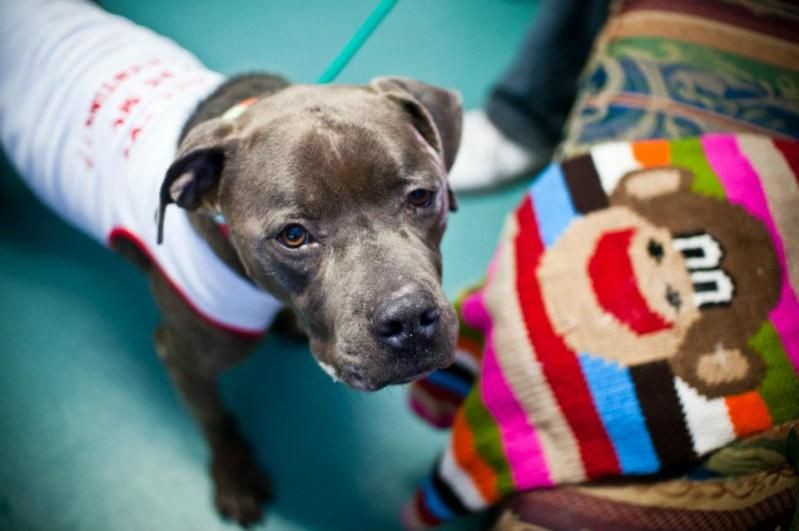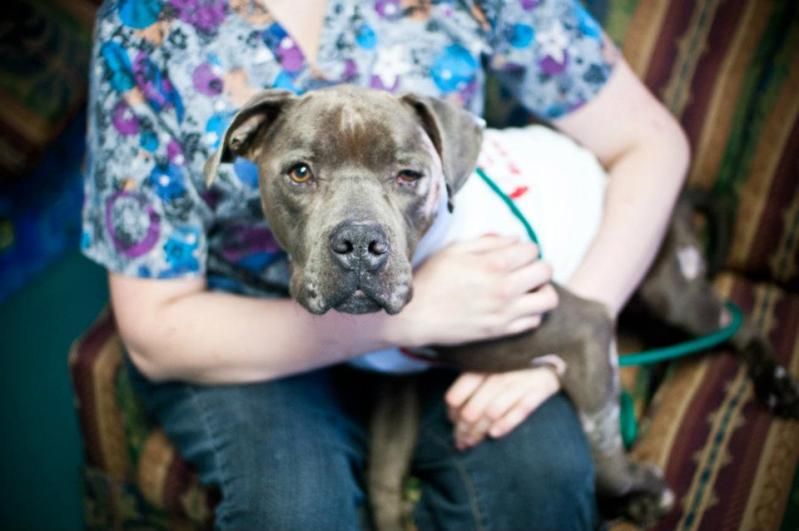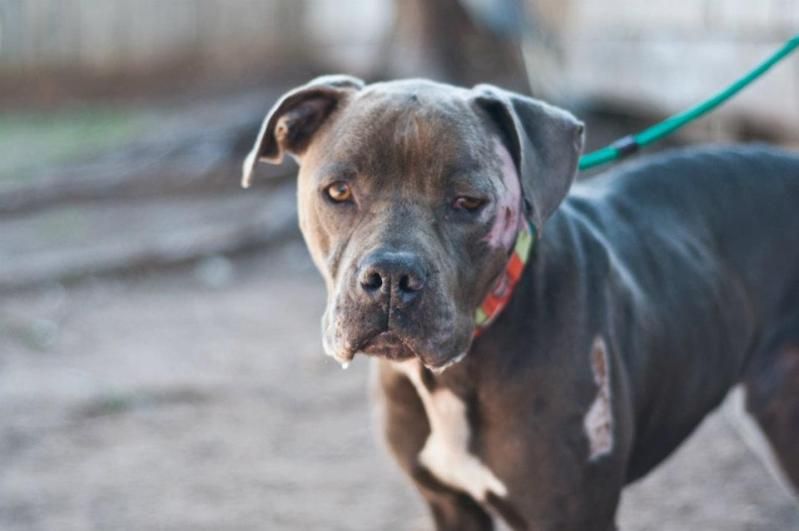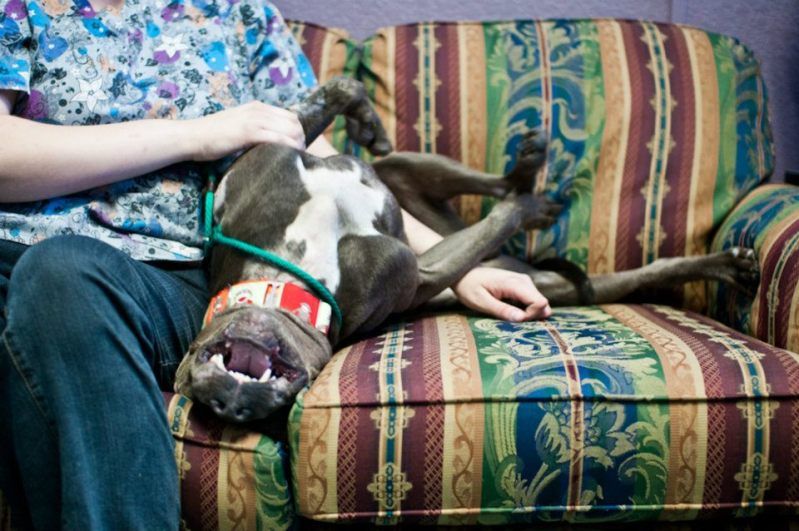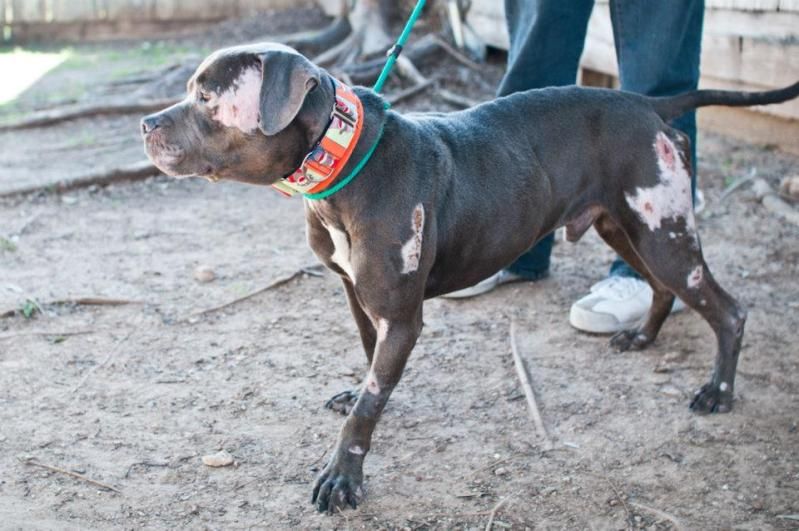 Day 8, P.M., as it was posted to the website.
"River collapsed tonight during a routine recheck exam, went completely unconscious, pale, and stopped breathing. He came back to life on his own afterabout 30 seconds, but for a gut wrenching minute we really thought he was gone.He is mostly back to normal now, but the risk that it will happen again ishigh. We ran an EKG and River has a condition called AV Block, oratrioventricular block. We do not yet know the cause of the condition, but until it is treated, there is a substantial risk that this will happen again if River experiences high stress. Hopefully he can get into see a cardiologist tomorrow,so we can find out what is going on, and get him on the road to recovery.Please keep River in your thoughts and prayers, and we will update on his status again soon."
Day 9- (Today)
River did very well overnight, and seemed to be his old self this morning. The cardiologist came out around 1:30 PM to see him, and do an exam/EKG/echo. Much to our suprise/delight?/bewilderment, his EKG, ultrasound, and atropine response tests were all relatively normal. Compared side by side to the EKG that was taken last night, you would think it a different dog if you didnt know better. While this is great, it still doesnt answer the question of what happened, so we are doing one final test to try to get an answer, which is a titer test for Chagas disease (blood parasite). Otherwise, it looks like a major sensitivity to sedatives/anesthesia and potentially any type of opiate drug. Unfortunately it's impossible to know for sure. River will need a foster home with lots of TLC and quiet time to recover, and his medical bills are eating through donations like they are candy. Please take a moment of your time to spread the word via facebook, make a donation, or say a prayer for my baby boy. He's been through so much already, and we wont let anything else stand in our way. For a dog that's been hit by a car, drowned, starved, shot, and is heartworm positive, he still has a lot of fight left in him!!!
Thanks in advance,
Jess