Discussion Starter
·
#1
·
Thinking of getting a dog? Dogs are phenomenal creatures. They can serve a multitude of purposes ranging from companions, service dog, working dog, sporting dogs, etc. Some breeds excel at things that others don't and choosing a dog should be based upon you and your needs as the owner. What this means is that there are more factors that should be taken into account when it comes to choosing a dog other than its looks. What type of person are you? Are you active? Competitive? Strong? Submissive? In addition, what type of environment will the dog live in (living space, family structure, city, rural, etc?)
Many of us choose dogs for the wrong reasons and quickly learn that the dog isn't what we had in mind. This can lead to a multitude of things, ranging from neglect, incorrect training, adoption, dog accidents, etc. In order to make the right decision, you should actively research the breed (history, temperament, size, health) and find owners who you can interact with. Without knowing what you are getting, there is no way to know where you will end. Knowledge is key. Preventative measures are easier than costly mistakes. Pick the dog the best suits you and your needs, whether it is a cuddle bug, a guard dog, or a sports dog. There aren't any bad dogs. There are only bad owners. Sure, sometimes things can go wrong or you have a crappy specimen of the breed, that should be culled, but if you truly know what you need, less chance of something not going as planned. Amongst all things, know what the dog was bred for. If it was bred to be a couch potato, don't expect it to work. If it was bred to be a guard dog, don't get mad if it bites or guards and since this is a "pit bull" site expect "pit" bull behavior; fights are expected... It isn't the end of the world (unless you lose the dog.) *Coming to terms with your wants, needs, and characteristics, combined with the knowledge of the breed you seek, will make you a better dog owner who is prepared to handle what comes his/her way.
One of the most important (if not the most important) factors in a dogs disposition, is its history. Every dog has its place in the correct environment (hence - no bad dogs. Just bad owner.) Knowing why your breed of choice was created will help you start to dial in on a choice of breed. Fail to recognize the breed's purpose may result in a devastating disaster that you may not be prepared to handle. You may not agree with some more experienced owners, handlers, breeders, or even the dogs past. That's ok. Rather than be ignorant and think that it wont happen to you or that *you can wipe away xyz years of breeding for a purpose away, thinking that the original purpose was inhumane or sheer stupidity, remain open minded at all times. As was mentioned, you don't have to like or agree with something but total disregard is plain old stupid.
Here are some comparisons to help you get a general idea of some differences.
Show Mali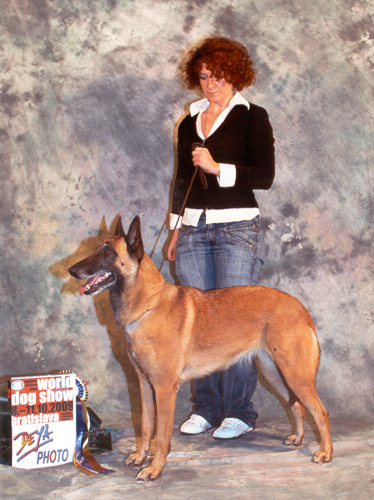 Working Mali
Show GSD
Working GSD
APBT
Amstaff
American bully
Show husky
Working husky
Show gsd's working lol
While some of these dogs may share a name, or look ( to a degree,) they are vastly different.
Every breed has its origin for a specific purpose. Choose wisely.