Alright, I know I shouldn't tease him, but it was just so funny when my husband walked up on Trance and he freaked out! It scares the bejeebus outta him for some reason, I guess because he can't see your face. I thought I'd try and see if he remembered the helmet. And he did, LOL.
I know....I know....I deserve a ruler slapping for teasing the dogs.
For some dogs its vacuums, for some dogs its feet under the blankets, for Trance, it is the EVIL HELMET OF DOOM!
He's cool as soon as I talk to him or lift the visor. >.<
Notice Vaia's (the pup) like wth's wrong man? LOL she's not scared of anything.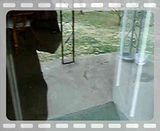 Trance being a little tough guy as a pup. LOL