Discussion Starter
·
#1
·
I'm Adam of Unleashed Kennels. We like our dogs a little bigger than most. Here are a few dogs that we own,co-own, have produced or is an offspring of Zeus.
This is Zeus of Strong Hearts Kennels. He is a UWP UWPO CH in the UKC. Could have should have been a great weight pull dog but Ebrihim and myself messed up his training (this was almost 10 years ago)He was owned by Ebrihim and myself. He started everytihng in my program. I know he doesnt look it but he is 115+ pounds.
This is Unleashed Kennels Xander. He is about 115 pounds right now at 14 months old.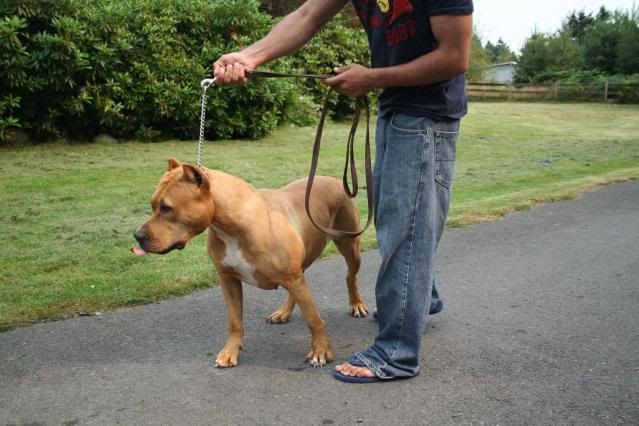 This is Unleashed Kennels Venus. She is a true 90+ pound female.
This is Night train Kennels Hoss. This is a son of Zeus ! Night train kennels produced this boy. I really like him a lot. He is owned by our friends Tim and Trina. Hoss is an IWPA World Champ and a UKC Nat'l Champ in weight pull. Again I know he doesnt look it, but this boy is 135 - 140 pounds !
We like them BIG ! LOL I know there are some people out there that HATE the XL's and Bully's but please know we health test our dogs and dont breed dogs with HD or ED. Zeus was OFA certified.
This is Matuce of Olympic Kennels. He is also a son of Zeus.
This is Strong Hearts Gabby. She is an Ace in the ADBA and won almost everything except nationals (didnt have the time to make it there) that you can in the UKC. She was trained and worked by Abe. She now resides at Unleashed Kennels. She is also personal protection trained. This bitch is FIRE.
Here are a few more of her.