Starting
TONIGHT May 1st,2010
, we will be starting a fundraiser for Pitbull Positive. Every 5.00 donation will go towards entering your email address into a drawing for a chance to win one of Stillwaters awesome leather harness's w/ lead. You will be able to choose the harness & lead of your liking!
All proceeds will go directly to Pitbull Positive to help out with rescue and education. Entries will be accepted from May 1st to the 29th when Dan will announce the winner live during the show.
Thanks in advance for supporting the best pitbull rescue In Illinois
Since we're having a slight problem with the original link please use the link below and use the CHIP IN...
Pit Bull Positive - Responsible owners unite for Pit Bulls.
By,
Redog
DueceAddicted
Stillwater ZK Leather Walking Harness
Comes in Black, Burgandy, and Tan, as pictured. Fits 30lb-80lb dogs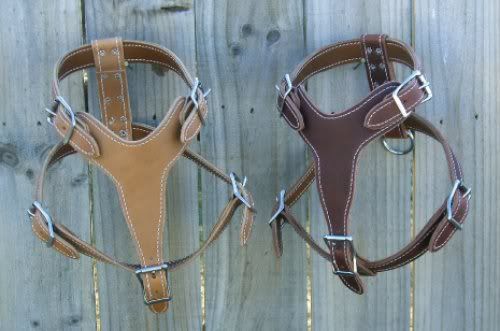 Leather Walking Harness
fits 35-65lb dogs
Working/Pulling Harness
5 way adjustable, They will fit 30-100 lb dog
Harnesses come with pulling tracers that can be detached, so that harness can be used as walking harness or treadmill harness.
6' Heavy-Duty Leather Lead with Bullsnap
Black only, at this time.
Leather and Chain Leads
Lead is 4' in length.
1.5" wide leather handle with 3/8" chain and bullsnap.
Comes in, Black, Tan, Brown, and Burgandy !!!!
Leather Traffic Lead with Bullsnap
Heavy-Duty Rope Leads !!
Colors- Black, Blue, Red, Green, Silver, Burgandy, and Multi-color(Red/Blk, Blue/Black, Pink/Black, Yellow/Blk, Green/Blk, Orange/Blk,).